Boegger copper mesh gives you and your customer considerable service
Boegger Industech Limited is a professional manufacturer in producing copper wire mesh. Since its foundation in 2000, our company has been playing an important part in wire mesh field. To improve the satisfaction from you or your customers, we have been focusing on developing new products.
Woven mesh, knitted copper mesh and expanded copper wire mesh are our main products.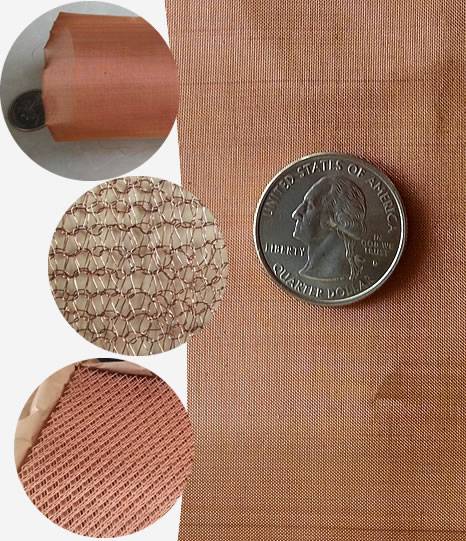 They are different in structures and applications. According to mesh openings, Copper woven mesh can be divided into three types - coarse, medium and fine. 1 to 10 mesh openings per inch is coarse mesh, 12 to 40 apertures per inch belongs to medium type and 50 to 100 openings per inch is fine mesh. It has a wide applications including RFI shielding, Faraday cage, screen, artworks and DIY.
Knitted copper mesh is often used as stuf-fit mesh to exclude rodents and birds. It is very soft and easy to be cut by scissors and knives. It is often used in garden to stop pests including snails and slugs.
What is the application of copper mesh?
Faraday cage, RFI shielding;
Rodent and bird exclusion, garden pest stopper;
Decorative mesh;
Fireplace screen;
Filter and sieve.
Is it really effective to protect my garden?
If your plants in your garden are often attacked by snails and slugs, the answer will be ABSOLUTELY. It is proven that snails and slugs hate copper mesh and don't like to touch it. So copper wire mesh has been widely used to protect your fruits, seedlings and others.
I heard that stuf-fit copper mesh does great job in rodent exclusion. Is it true?
Yeah, it is true. Rodents can bring a lot of trouble to your house, especially infectious diseases. Rodents can enter into your house through a 1cm wide hole or crack and then dwell in your room. Copper mesh can be stuffed the holes firmly and will the mouths when the animals try to chew up. After done this, the rodents like house mice can't come in again.
Can you make customized mesh for special application?
The answer is YES. Our skilled employees have been in this field for than 10 years. They are very capable to manufacture bespoke wire meshes according to your special requirements.
Can I get a sample before placing orders?
Of course! We are glad to provide samples to you or your customer. You will find that our products are genuine at fair prices.
What should I do if I have problem in using the copper mesh?
You can directly ask help from 24/7 our online service or email or call us for any questions. You see, copper wire mesh has wide applications. It is normal that you are confused about how to use it properly. Our professional sales will help you resolve all your troubles.