High Efficient and Environmental Protective Copper Alloy Mesh
Aquaculture is growing fast as one of the main animal-food producing sectors. And it is facing many serious problem, like corrosion, oxygen content reduction, fish disease and so on. With the strong support of International Copper Alliance, copper alloy mesh is more and more applied in aquaculture, providing productive and sustainable solutions for fish farmers. We can provide you copper alloy wire, mesh and panel in LC6911, LC6912, LC6909 and so on.
Chemical Composition
Alloy
Cu
Sn
Al
Zn
BD06 Copper
66.0
0.6
0.6
Rem.
Mechanical Properties
Alloy
Wire Diameter
Temper
Hardness(HRB)
T/S(N/mm2)
E/L (%)
BD06 Copper
4.0 mm
1/8 H
54
440
22
CATALOG DOWNLOADS
download
Data Shows Benefits
SGR: 15% increase
Predator attacks: down to < 0.1%
Labor hours/tonne: 79% reduction
On-site energy use: 15% reduction
Mortality: less than 4%
FCR: 15% improvement
Feed use: 10% reduction
Antibiotics: 31% reduction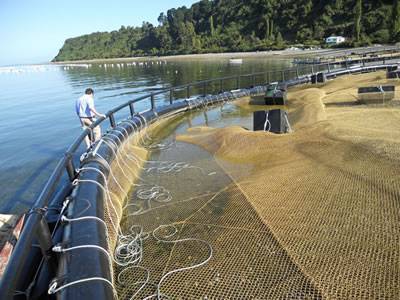 Copper alloy fish cage application scene
Fish in copper alloy mesh cage.
Copper Alloy Mesh – BD06 – Anti-Fouling & 100% Recycled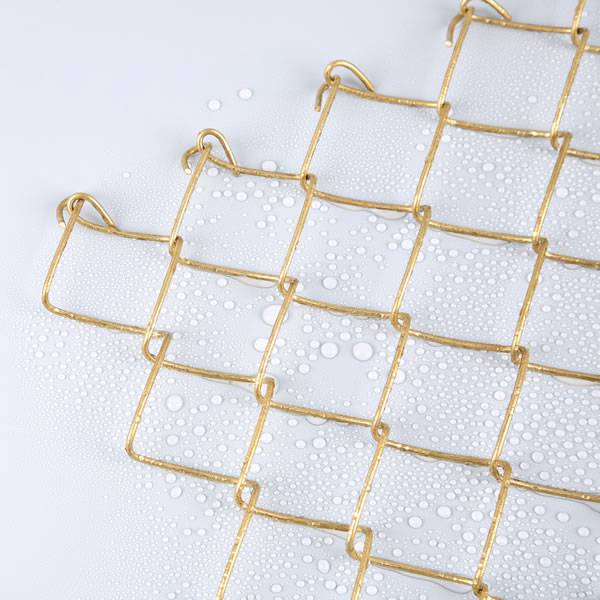 BD06 copper alloy mesh is specially designed for aquaculture applications.
The specially designed copper alloy wire has easy rolling and folding structure, which is flexible and convenient for transporting and assembly.
This copper alloy mesh for aquaculture has more than 7 YEARS long lifespan.
Popular Sizes
Wire Diameter
Mesh Opening (A)
2.0 mm
20 × 20 mm
2.5 mm
25 × 25 mm
3.0 mm
30 × 30 mm
3.5 mm
35 × 35 mm
4.0 mm
40 × 40 mm
4.5 mm
45 × 45 mm
Customized Length & Width
Copper Alloy Mesh – BD33 – Ideal for Inshore Aquaculture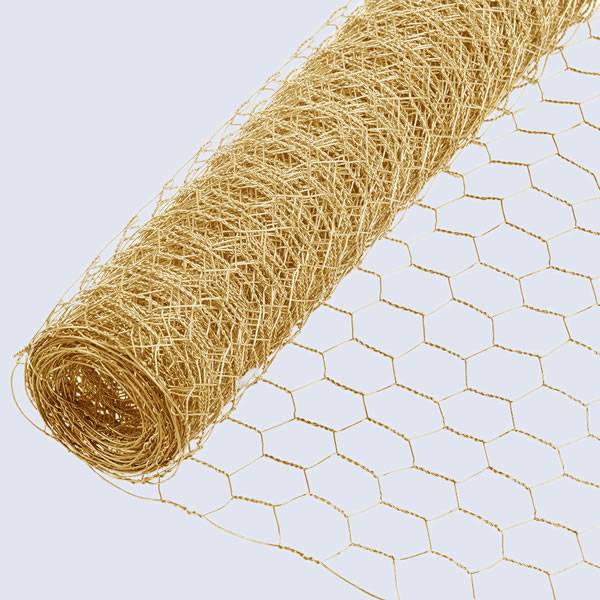 BD33 copper alloy mesh is an alternative to BD06 copper alloy mesh. It has same chemical and physical properties with BD06.
Compared with BD06, the BD33 is not as strong as BD06, but it has lighter weight and lower material cost then BD06. So it is ideal for the inshore and land based cage farming for mild fish species.
Where is BD33 used for?
Light cage farming.
Silent inshore aquaculture.
Land based cage farming.
Mild fish species farming.
Popular Sizes

| Mesh Size (A) | Wire Diameter | Max. Width |
| --- | --- | --- |
| 12.7 mm (1/2") | 0.51 mm (25#) | 1.5 m (4.9') |
| 15.9 mm (5/8") | 0.62 mm (23#) | 3 m (9.8') |
| 25.4 mm (1") | 0.91 mm (20#) | 3 m (9.8') |
| 25.4 mm (1") | 0.81 mm (21#) | 3 m (9.8') |
| 30.5 mm (1.2") | 1.01 mm (19#) | 3 m (9.8') |
| 30.5 mm (1.2") | 0.91 mm (20#) | 3 m (9.8') |
Wikipedia says:
"The use of copper alloy mesh in aquaculture helps promote a clean energy economy. From decreased CO2 emissions to decreased fish mortality, copper alloys promote "green" living and help fish farmers realize greater cost savings. Copper and its alloys are 100 percent recyclable, unlike other net materials. Copper-alloy nets are durable, so they last longer."
Why Choose Copper Alloy Aquaculture Mesh
Compared with traditional fish cage, copper alloy aquaculture mesh features no climate limitation and worldwide application.
They can defend predators, improve fish yields and will not harm to the fish health and water environments.
Extremely long service life and less maintenance costs make fully profits for customers.
Defend Waves & Maintain Cage Volumes
Highly durable and stable structure help to defend waves and currents.
Stable structure can prevent fish crowding and improve yields.
Long Life & Fully Recyclable
Copper alloy aquaculture mesh supplies extended cage life for at least 10 years.
It can be recycled fully for the production of new placement.
Prohibits Predation and Keeps Enclosure
The warning color can deter predators attacks.
Strong structure keep farmed fishes in and prevent escaping.
Anti-Microbial & Anti-Fouling
Slowly releasing copper ions with slight toxicity can inhibit algae growth to reducing the attachments on the net cage.
Maintenance Free
Because of excellent anti-fouling performance, it need few inspections, repairs and cleaning during its long lifespan and it can save the overall costs.
Environmentally Friendly
It can substantially improve farming environments with less biofouling. Additional, it will not release harmful elements to environments and fish.
Comparison of Traditional Fish Cage & Copper Alloy Fish Cage
Boegger Industech Limited will help you to create the new era of efficient, healthy and environmental protective marine aquaculture.
Traditional
Copper Alloy

Serious Biofouling

Serious biofouling and organic matter blockage impede the water exchange, resulting a low oxygen content environment for the fish. And fishes are easy to get ill and infected under this condition.

Naturally Bacteriostatic - Healthy Fish Harvest

Copper alloy mesh naturally inhibit biofouling, preventing the mesh from organic matter clogging. This increases water flow and oxygen content and reduce fish disease and infection.

Not Recyclable & Short Replacing Period

Traditional polymer fish net would finally end up in local landfills because they are not recyclable. And the surrounding water quality got worse after long time using traditional mesh.
Lifespan of traditional fish net is very short especially when they are used in waving offshore aquaculture environments.

Recyclable & Long Service Time

Copper alloy fish cage is corrosion resistant and can be used for 5–10 years.
It loses little mass over time, and it is 100% recyclable. Retired copper alloy material will be used in the initial product of copper alloy mesh, which reduces CO2 emission. American Soybean Association did a research that the copper alloy material won't pollute surrounding water.

High Maintenance Cost

Divers need to clean and remove the traditional polymer mesh now and then, wasting too much labor, time and money.

Low Maintenance Cost

Copper alloy mesh would stay clean and don't need to be removed, which reduce the diver cost and risk, as well as the maintenance costs.

Weak in Predator Resistance

Traditional fish net is easy to be damaged by the outside predators, and fish can easily escape from the net. Farmers are vexatious because they need to protect their fish, but they cannot do harm to the predators.

High Strength to Defend Predators

High-strength copper alloy mesh can efficiently resist predators attack (like seals, sea lions and sharks) and fish escape. They even act well when extreme storm come.
Products Display
Measure the length of copper alloy mesh
Copper alloy mesh in rolls
Copper alloy finished product display
Packed copper alloy mesh
Inquiry for Our Product

When you contact us, please provide your detail requirements. That will help us give you a valid quotation.