More Precise Micro Expanded Copper Mesh in Harsh Environment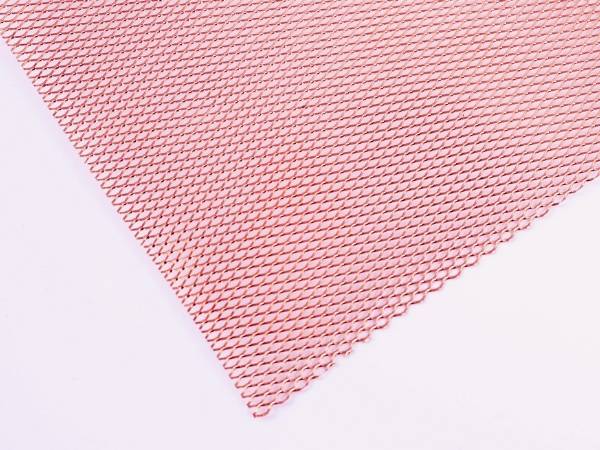 Micro expanded copper mesh
Micro expanded copper mesh is made of copper with excellent ductility to meet specific weight and size requirements. The quality and workmanship of the product materials are in accordance with ISO 3001 and AS 9100. It has a wide range of applications in shielding, lightning defense, and battery, etc.
Material
Red copper: Also known as purple copper and red copper, has excellent ductility and good thermal conductivity and electrical conductivity, making it a safe and recyclable metal material.
Brass: Also known as copper-zinc alloy, has high strength, high hardness and high wear resistance.
Aperture Type
We can provide micro expanded copper mesh in diamond and square patterns.
Diamond
Square
Features
Good electrical conductivity
Excellent corrosion resistance, heat resistance & impact resistance
Whole structural processing increases material stiffness, and the mesh can be annealed to improve its formability
Cutting and stretching techniques ensure no waste of material and increase its strength and stiffness
Good physical and chemical properties for applications such as lightning defense, EMI/RFI shielding, etc.
Application
Aircraft Lightning Defense
The main material of the aircraft is carbon fiber composite material, but the composite material is a poor conductor of electricity and is easily damaged in lightning strikes. It is possible to prevent lightning strikes by covering the surface of the composite material with a microporous metal mesh.
LWD: 2.5–3.2 mm
Thickness: 0.08–0.33 mm
Length: 80–300 m
Wind Turbine Lightning Defense
Most wind farms are located in open, vacant locations. Because of its special structural design, it is very easy to lead to lightning attacks on the fan, which may cause damage to the fan blades. In order to protect against lightning without changing its shape, we can adopt micro expanded copper mesh with good electrical conductivity, or fine copper mesh.
Battery
In modern battery designs, the electroactive polymers used in the electrodes are powders that require mechanical support structures to hold them in place during the manufacturing process. Micro expanded copper mesh can be used as a support structure for the battery and provide a power connection point for external circuits.
Material: Pure copper or brass
Thickness: 0.1–0.4 mm
Width: 21–300 mm
Folding Edge Width: 2.0–2.5 mm
Density: 150–500 g/m2
Filtration
Micro expanded copper mesh is widely used in liquid filters and air filters, and can be made into rolls or sheets that can be welded to various parts used for filtration.
We can provide micro expanded copper mesh in a variety of thicknesses, aperture sizes and 2D/3D structure combinations to meet different filtration requirements and filtration levels, ensuring a perfect match between the strength of the copper mesh and the filtration accuracy.
Thickness: 0.05–0.08 mm
Open Area: 53%
EMI/RFI Shielding
Micro expanded copper mesh has tight apertures, uniform mesh surface and stable continuous openings, which can provide excellent shielding performance.
The copper content of our micro expanded copper shielding mesh are above 99.7% (economic type) and 99.9% (best shielding efficiency), and all of them are RoHS compliant.
Thickness: 0.05–0.08 mm
Density: 215–245 g/m2
Open Area: 53% – 64%
Clients Hot Specifications
MEC-01
Copper: ≥ 99.95%
Thickness: 0.33 mm ± 10%
Density: 420 g/m2 ± 10%
LWD: 2.41 mm ± 10%
SWD: 0.94 mm ± 10%
Strand: 0.38 mm ± 10%
Length: 86 m ± 500 mm
Width: 800 mm ± 30 mm
Inquiry for Our Product

When you contact us, please provide your detail requirements. That will help us give you a valid quotation.