Copper Scrubber for Domestic and Industrial Cleaning
Copper pot scrubber is very effective to remove any kind of greasy dirt for its great friction between the scrubber and the pan yet leaving no scratch.
Copper scrubber is made from fine copper threads that create a soft feeling when you clean pots, pans and other cookware. It can gently remove heavy grime and dirt without leaving scratches on the surface. So our copper scourer is very popular in retail and wholesale hardware markets. As its outstanding cleaning capacity, restaurants, commercial kitchens, cleaning and janitorial businesses are our popular users and customers.
Hot sale size:
Weight – 25 g/pc,
Diameter – 100 mm (3.93 inches)
Note:
Not available for non-stick surfaces.
20 g/pc, 30 g/pc, 35 g/pc and other sizes are also available.
Apart from cleaning, this copper pot scrubber can also be used as stuf fit copper mesh to stuff the holes to keep house mouse, rats and other unwanted small animals out of your house for it will not rust. For example, you can stuff copper scourer in soffits to keep the bees out.
Main Types of Copper Scrubber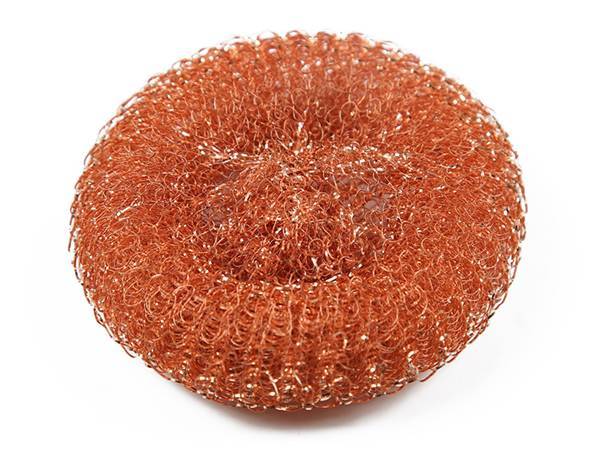 Copper scrubber (knitted)
Brass scrubber (knitted)
Brass scrubber (spiral wire)
Features:
Great for scouring
Leaves pots and pans looking new again
Pads will not rust
Strong cleaning capacity
Easy to dry and hygienic
Spiral structure without hurting hands
100% recyclable
Long service life
Quality Control of Copper Scrubber
Copper scrubber unit weight
Scrubber diameter
Brass scrubber unit weight
Package of copper scrubber
Copper scrubbers are packed in individual plastic bag package and then put into wooden cases or cartons.
Individual package is benefit for use and storage. And carton or wooden cases can protect copper/brass scrubber maximally during transporting.
Copper scrubber packing
Brass scrubber packing
Inquiry for Our Product

When you contact us, please provide your detail requirements. That will help us give you a valid quotation.